Author: Sam Barnett, Product Line Manager, SAS and SATA Storage Networking Products, Storage Products Division,
Vitesse
As connectivity and storage needs of the world business community continue to expand, high-performance, low-cost storage infrastructures and new storage networking technologies are required. Enter Serial Attached SCSI – its two tiered model – offering simultaneous support of both enterprise-class (high performance, high transaction I/O and extreme reliability) and desktop-class (high density with low cost) storage facilities — are revolutionizing the way storage systems are designed and ultimately deployed.
The "shared storage" demonstration, conducted at the recent SCSI Trade Association SAS Solutions Open House event in San Jose, exemplifies the promise of SAS.
Enterprise Storage Features
Broad Application Flexibility
Connection Diversity
PC HDD Economies of Scale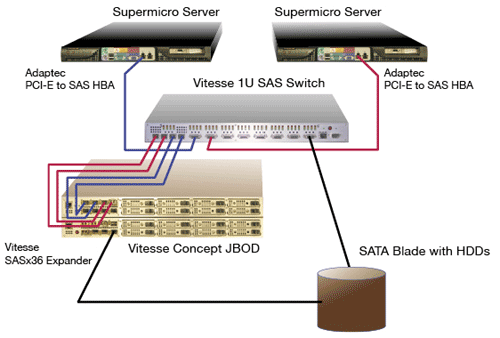 In this multi-vendor demonstration, two SuperMicro, single-processor servers (one equipped with the LSI Logic 1068 SAS Initiator and the other equipped with the Vitesse VSC7250 SAS Raid-on-Chip Controller), were connected via four-wide InfiniBand connections to a Vitesse-enabled SAS switch. The switch, in turn, connected via an optional Optical Interface to a shared (SAS and SATA drive) JBOD with a mixture of Seagate and Fujitsu SAS and SATA drives; similarly, the SAS switch was connected via other four-wide InfiniBand connections to an active/active SATA-only drive array based on Maxtor drives.
Not only were multi-initiator operations to both SAS and SATA targets conducted simultaneously via the SAS switch, but a possible extension to the existing standard — an optical interface — is shown in operation.
Streaming video special features were displayed from the shared SATA array, while IOmeter and other tests were performed simultaneously on the shared optical-interface JBOD.