Author: Linus Wong, Director, Strategic Marketing,
Adaptec
With its diverse requirements for high-performance storage for primary, mission-critical data and lower cost, higher capacity storage for secondary data, tiered storage has often required completely different primary and secondary storage systems. Building a tiered storage solution on a SAS infrastructure solves this problem, by allowing a single storage infrastructure to support both primary and secondary storage.
SAS is the only storage interface to offer native support for two different types of disk drives – SAS drives for enterprise-class performance and/or SATA drives for high-capacity nearline storage applications. The SAS infrastructure also provides broad support for tape-based peripheral devices, enabling the inclusion of tape libraries for archiving data offsite, ensuring business continuity in the event of disaster.
Using a SAS infrastructure also simplifies purchase decisions and deployment. By standardizing on SAS, your only purchase issue is choosing the appropriate disks for your primary or secondary storage needs. Decoupling disk drive selection from the backplane infrastructure choice offers much greater flexibility to choose the right disk drive at the time you need the storage capacity. Another benefit is that it eases primary/secondary storage re-allocation. As needs change, reconfiguring storage is as simple as swapping drives.
The illustrated tiered storage solution, demonstrated by Adaptec at the STA-sponsored SAS Solutions Open House in May, shows how a 100% SAS backplane and controller implementation can be used as the storage platform for all aspects of primary and secondary storage.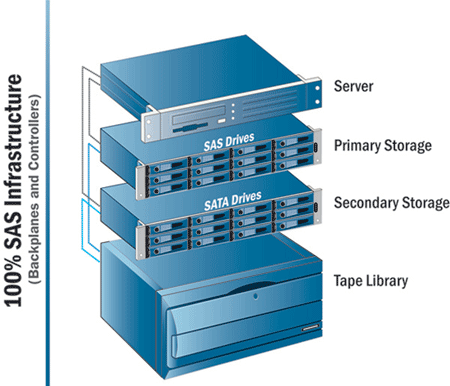 This solution is also easy to expand as needs grow. Because it's built on a 100% SAS infrastructure, both primary and secondary storage benefit from the ability to scale up to over 16,000 storage devices.