Author:
David So, Strategic Marketing Manager
LSI Logic
LSI coordinated a live, multi-vendor demonstration highlighting the performance benefits of SAS technology in a Microsoft SQL Server environment. The key messages for this demo were that SAS offers:
Enterprise-level performance up to 2.4GB/s full duplex
Enterprise-level capacity of over 16K targets
Lower total cost of ownership
An ideal solution for MS SQL Server data warehousing environments

This demonstration incorporated SAS components at every level – PCI Express to SAS controller ICs and host bus adapters from LSI; SAS expander ICs from LSI, PMC Sierra, and Vitesse; a SAS switch from LSI; SAS disk drive enclosures from AIC and Promise; and a total of 72 SAS disk drives from Fujitsu (both 2.5″ small form factor and 3.5″), Hitachi GST (3.5″), and Maxtor (3.5″). Total storage capacity was over 9TB. The various enclosures and disk drives were zoned through the SAS switch.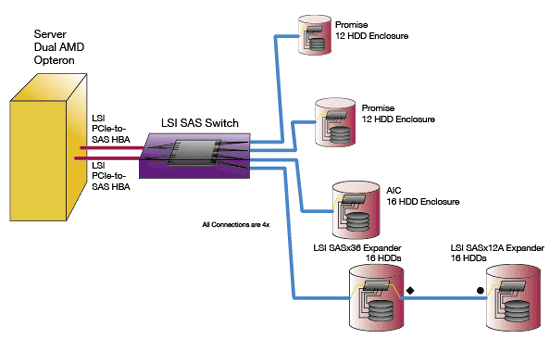 A snapshot of Barnes and Noble's database (> 1TB) was used to demonstrate the data warehousing capabilities of a SAS storage solution, while Microsoft's SQLIO application was used to show the following performance numbers:
64KB Sequential Reads – 2.01 GB/s throughput
64KB Sequential Writes – 1.8 GB/s throughput
64KB Random Reads – 1.5 GB/s throughput
64KB Random Writes – 1.2 GB/s throughput
Although the primary focus of this demonstration was the performance benefits of SAS in a true data center environment, it also provided a glimpse into the scalability of SAS. And with so many vendors' products as part of the demo, it is obvious that SAS has reached the interoperability level that is required to bring it to the mainstream.