Author:
Jay Neer, Corporate Strategic Product Manager,
Molex
The SAS Interconnect Infrastructure table displayed examples of the new connectors and cables implemented in the recent SAS 1.1 release. The new Mini SAS connectors developed by Molex for the standard are now appearing in SAS products from a number of companies. This interface provides more port density on host boards and enables higher bandwidth capability for transmitting data.
The internal Mini SAS is documented in the SFF Committee SFF-8087 Specification. This low-profile SMT connector provides four times the port density on host boards compared to the connector released in SAS 1.0. The AMCC controller card on display implemented four Mini SAS 4i connectors on a full size PCI card similar to the upper diagram on the sign.
The external Mini SAS is documented in the SFF-8088 Specification. LSI Logic provided a new controller card that implemented a single Mini SAS 4e connector. The external Mini SAS provides a pull-to-release latch compared to the dual jackscrew attach in the SAS 1.0 interface.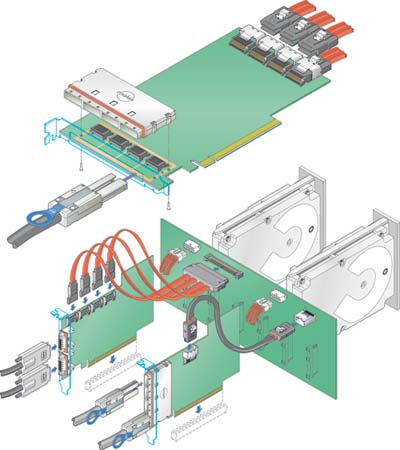 All connector pin numbering and signal assignments are documented in the SAS 1.1 standard.
Appropriate tables and figures assist the developer with their design implementations. The SAS standard also points to the appropriate SFF connector document for connector/cable details.
The cables mated to the four internal Mini SAS connectors on the AMCC board provided examples of the cabling options available through the standard. They included controller cards to: straight and right-angle Mini SAS on a backplane, straight and right-angle SAS on a backplane, Mini SAS direct connect to an HDD – with or without power.
Cables mated to the external Mini SAS 4e on the LSI Logic card are available to mate with other external Mini SAS 4e boxes as well as to SAS 4e boxes.
Finisar provided an analyzer featuring pluggable adapter modules with the SAS x1 connector interface.
Catalyst provided a host system running Catalyst analyzers on both sides of a Quellan Cable Extender. The extender enabled the use of a 15m passive copper cable.