Author:
Don Jeanette, Senior Manager, Product Marketing
Fujitsu CPA
Form Factor Display:
2.5″, 3.5″ Form Factors to fit your requirements
High capacity and speed for enterprise applications (3.5″ 15K)
High capacity and cost effective performance (3.5″ 10K)
Performance and density for mission-critical data (2.5″ 10K)
Enclosures available for any form factor, spindle speed and capacity
Enabling blade servers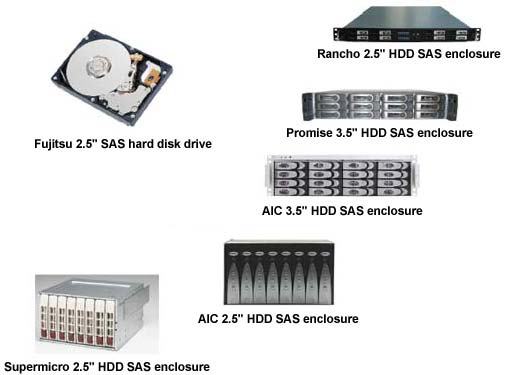 There are many options for choosing what and how you build your data centers today. Today's SAS offerings give you the choice to choose your hard disk drive based on various factors, as dictated by your specific needs and usage models for your data center. You can choose between 2.5″ and 3.5″ form factors, including both 10K and 15K RPM hard disk drives. Beyond what your usage model will be, other parameters for choosing are power consumption concerns, floor space availability and overall capacity requirements. There are various hard disk drive manufacturers that offer these choices. Hitachi GST, Fujitsu and Maxtor are companies that can supply you with SAS HDD needs today. These products have been proven in the market.
You also have the choice for the type of enclosure that your drives will fit into. SAS enclosures available today can range from standalone 2.5″ four-drive enclosures to others housing 20 drives. If very high capacity drives are your main criteria, then you can choose Promise Technologies 16 bay 3.5″ enclosure. If high density in a small space is your requirement (SFF SAS), then there is AIC's 2U enclosure that will accommodate up to 24 spindles in one enclosure. There are also many other options between these choices. Companies that are now shipping these various enclosures are HP, Promise, AIC, Enhance, JMR, Rancho SysTech Inc. and Supermicro.
2.5″ and 3.5″ drives are now available in the market, along with any type of enclosure to house these drives.